Bathrooms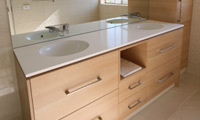 Bathrooms are one of the "focal" rooms of any dwelling. If the phrase "attention to detail" is important, then this room must showcase this.  This begins with correct vanity size right up to maximising shower space. Every household will have different requirements from their bathroom, hence the need to individually design the room. Concept bathrooms can professionally advise of the numerous sizes, styles and looks available that allow you to build the bathroom of your desires.  Good Storage in bathrooms makes for keeping the room uncluttered and easy to manage.
Kitchens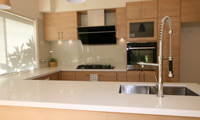 A well designed and built kitchen is a must. This room of the home is essential to the flow of the rest of the dwelling. The Kitchen is the focal point of a house and needs to flow well to make the most of the space you have.
At Concept Bathrooms we can help assist in the design and implementation of all the latest products on the market, whether being traditional or contemporary, our display showroom has the solutions and expert advise to match.
New Homes and House Refurbishments
Concept specialise in custom built new homes and cost effective house refurbishments. We are not in the volume build market and therefore can offer the level of commitment and attention not usually demonstrated by larger construction builders.
Architectural design
Permit applications and approval
Custom built new homes
Project management services
Pergolas
Granny Flats
Alfresco Areas
Garages/Sheds