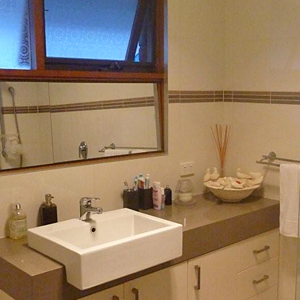 Bathrooms over the years have been popular rooms to renovate. The reason for this is when these rooms offer the latest amenities and trends, they increase the value of the entire home at resale. Each year trends vary with these rooms, though, but 2016
remodelling trends and ideas will be exciting for homeowners to add to their own bathrooms through the renovation process. We list some examples of these trends here for your convenience.

Minimalist Design Features
Design features will be minimalist in nature to provide functionality with sleek, smooth lines that do not monopolise all of the bathroom's floor space. The result will be a room that provides bathing, showering, grooming and other personal necessities in a clutter-free way. Cabinetry will be basic without heavy ornamentation, and the other features will follow this same design pattern.

Contemporary Colours
Contemporary means what is currently in vogue and this includes colours. The colours that were contemporary last year will not be this year. White, black and grey or a combination of any or all three will trend for 2016. Wood tones will still be in for cabinetry, but the tones will include ones in the lighter range to complement the white, black and grey of the countertops, walls and other bathroom features.
Tubs and Walk-In Showers Remain as Focal Points in Bathrooms in 2016
Freestanding bathtubs jetted tubs or walk-in showers will still remain as the main focal points of the bathroom. After all, these are the elements that help you relax in the evening from your hectic day. The shower units today, even come with massage jets, seats and safety bars when desirable.

Multiple Sink Countertops Trend This Year
The cabinetry will include two sinks when the space allows so that you and your spouse can groom at the mirror at the same time. Of course, when the bathroom has limited space, you will need to install cabinetry with a single sink, but the trend for large bathrooms will lean towards multiple sinks as mentioned above for extra functionality. Raised and recessed sinks will still be in demand this year for bathroom renovation. Just select which style appeals to you the most for your own bathroom. Custom cabinetry will allow you to design the exact size of cabinets that will fit into your bathroom in an ideal manner.
Keep these 2016 bathroom remodelling trends and ideas in mind as you plan your bathroom renovation project this year. If you are in search of a contractor for this project, and you live in the Victoria area of Australia, please contact our company of Concept Bathrooms & Construction. We will explain all of our services upon request. We provide a range of services including kitchen renovation, laundry renovation, and tiles installation.