Bathroom Renovations Thornbury
Custom Renovation and Additions to Your Bathrooms in Thornbury
With over 25 years of experience, we are a premium provider of bathroom renovation in Thornbury. We are your one-stop destination for all bathroom renovation needs as our customised design approach is sure to cover all your requirements under one roof. The most important part of the renovation project is trust, which you definitely would want while entrusting your renovation responsibility. We understand this thoroughly,and that is why our bathroom designs in Thornbury sets a different niche in the industry. We aim to make your bathroom renovation process a hassle-free affair. Whether it is just a simple addition or a complete makeover, you can sit back and relax as our team will do the needful. A bathroom is more likely to show its age over time. Hence, it becomes crucial for you to assess the renovation requirements and based on that we will further move on with the makeover that will leave you spellbound.
How Do We Carry Out Our Custom Bathroom Renovation?
Our team of experienced designers and tradesmen will make sure that your bathroom renovation in Thornbury totally complements with the other rooms of your property. The renovation process includes these following steps:
Initial Consultation – We begin our renovation process with an initial consultation to know your set of requirements for bathroom renovations. Here, we even explore the space to ensure that our renovation designs make productive use of the entire bathroom area.
Quotation – Once the site survey is completed and the requirements understood; we move ahead with the design part. Our team will further provide you with the first-hand quotation for the entire renovation based on our created bathroom designs in Thornbury.
Bathroom Fixtures Selection– Our designs are created in a way that accommodates your preferred fixtures that we even help you select. While the selection process, we take care that you choose the best quality elements for your bathroom.
Renovation Process– Here, the final renovation process takes place which involves multiple steps like inspection, preparation, demolition, pipe reworking, plastering, painting, tiling, adding fittings, fixtures, final inspection and cleaning work.
Cleaning and Final Touch Up – We visit you one last time to give the final touches and to clean the mess accumulated after the renovation.Once we leave, you will be left with a sparkling clean and a freshly renovated bathroom space.
What Makes Us Different in the Industry?
An enriched experience in the industry for over 25 years
Quality bathroom renovation projects delivered on time
Budget-oriented and exceptional bathroom designs in Thornbury
Premium quality solutions and personalised customer service
High-quality craftsmanship of our expert team of designers
Affordable and stress-free bathroom renovation process
Contact Our Renovation Team Today
Your exclusive bathroom renovation in Thornbury is just a call away. Contact our team at 1300 851 955 for an initial consultation today. We can further work out the design and execution process accordingly.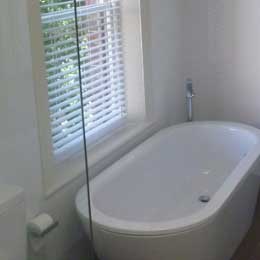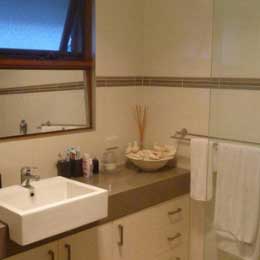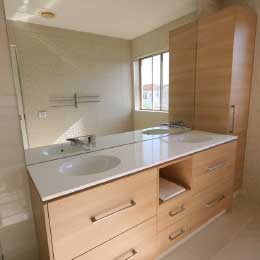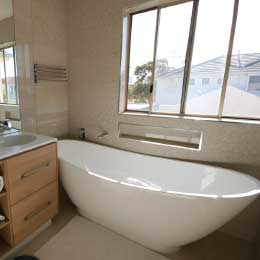 Kitchen Renovations Thornbury
Add Value To Your Home With Our Kitchen Renovations
Do you think your kitchen is old and gloomy and needs an update? Are you longing for new kitchen cabinets, new kitchen decor or an entire kitchen remodel? You might have tons of different ideas but you might be confused about converting it into a reality. That's what Custom Bathrooms are here for! We are here to implement all your kitchen designing ideas into a new kitchen design in Thornbury. When it comes to kitchen renovation, there are endless options available that you can choose from. Our trained planner and kitchen designer will work with you together to suggest kitchen decorating ideas and ideal kitchen layouts.
Our Professional Kitchen Design
With the advent of technology, kitchen designs have come a long way and our team of professionals is some of the best in the business. Whether you are looking for contemporary or traditional kitchens in Thornbury, our specialists will provide you with the best of the services. We will first understand your needs and work accordingly to create a kitchen that is perfect for you and your lifestyle. Our spacious cabinets, benchtops and drawers will avail you a space that is practical and functional.
Our Guide To Kitchen Renovation
Step 1 - Identify the scope of your project and discuss with you about your budget and requirements. With the information, we develop a detailed renovation plan for you.
Step 2 - Identify the best people for your kitchen renovation in Thornbury and ensure that they are the right fit for you. We believe in developing relations so that we can provide you with exactly what you desire.
Step 3 - Discuss the detailed plan and the final estimates with you so that you can suggest any alternatives at the last moment if you wish to for your kitchen design in Thornbury
Step 4 - We finalise and schedule to start the renovation process and ensure that it is a pleasurable process for you. We will consult you at every stage to make sure the process is going on just exactly as you want it to be.
Step 5 - The project completion. This is the most important stage for us as we want our clients to be completely delighted and happy with the outcome.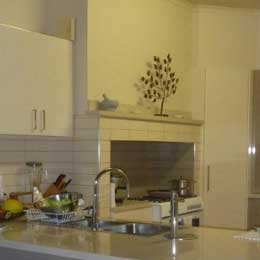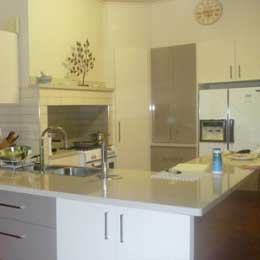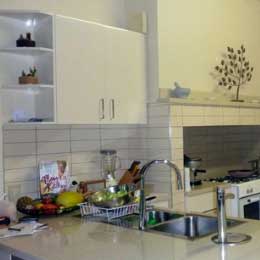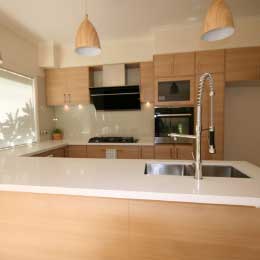 Want to Add Wow-Factor To Your Kitchen? Choose Our Kitchens in Thornbury
Kitchen Renovation Experts - Our experts strive to make the process as simpler and easier for you as possible. We combine our decades of experience and knowledge to help you navigate through the entire process from start to end.
100% Satisfaction - We, at Concept Bathrooms & Construction, are totally committed to you. We believe that any job is only finished when the customer is satisfied. Our involvement in your renovation process from start to end ensures that you get the maximum result.
Australian-Made Products - Often cheap imported products do not meet your requirements and won't stand to Australian atmosphere. At, Concept Bathrooms & Construction, we have tie-ups with Australian Manufacturers that produce highest quality products.
Start-to-end Project Management - From the initial consultation to the completion of your kitchen renovation in Thornbury, we help you through the entire start-to-end process to ensure that you get all the desired results.
Transform Your Kitchen With Us! Call us Today
We want your kitchen renovation in Thornbury to be a pleasurable experience and therefore, we leave no stone unturned to design your dream kitchen just like you wanted it. To request a free quote or to know more about our services call us today at 1300 851 955
Areas we Serve - Throughout Melbourne
Our Bathroom & Kitchen Renovation services are available Melbourne wide. Here are just some of the areas we service