Bathroom Renovations Coburg
Best Bathroom Makeovers in Coburg
If you are looking to revamp your existing bathroom or renovate your bathroom into a totally new design, look no further than Concept Bathrooms & Construction. We have 25 years of experience in the renovation industry and are well-versed on current trends and designs involved in laundry & bathroom renovations in Coburg. All you need is to communicate your existing issues that you are facing in your bathrooms and we will come up with the lucrative solution that will perfectly blend style, elegance and functionality. It is not necessary that you have to opt for a complete makeover. If your main focus is enhancing the functionality of the bathroom, simply adding the right elements like a full-size shower or a bathtub can really help. It all depends on your requirements and based on that we will design an accurate laundry & bathroom renovation solution for you.
End-to-End Solutions for Bathroom Renovation in Coburg
Our expert and experienced team will assist you from start to end, i.e. from the initial design consultation to choosing bathroom accessories, project management and final construction. If you have a bathroom that looks dull and boring, along with our creativity, our bathroom designs in Coburg will convert it into stylish and elegant. Our team is committed to working with you in a way that renders you with ultimate satisfaction through our premium design elements. While we work to make your bathroom look sleek and elegant, we will never compromise the functionality of the space. In short, our laundry & bathroom renovations in Coburg are sure to tick every box.
When they want to work with a leading team of luxurious bathroom designers and renovators 'near me', Coburg residents know to turn to Concept Bathrooms.
Benefits of Choosing Us as Your Bathroom Renovation Partner
Quality – Our team of Concept Bathrooms & Construction always deliver quality bathroom designs in Coburg.
Industry Experience – With over 25 years of experience, we have the knowledge and expertise to deliver exceptional bathrooms.
Expert Planning and Design – We have a systematic approach from planning to execution that we adhere to while designing your bathroom.
High-Quality Craftsmanship – Our expert team is highly talented and have the expertise of delivering stunning bathroom renovations that speak nothing but their craftsmanship.
Stress-Free Renovation Process– We take the entire responsibility of your bathroom renovation in Coburg. All you need is to stay relaxed while we complete our job within the set deadline.
When they invest in our bathroom renovation services, Coburg residents will be making an investment in lasting quality, and cost-effective design solutions that are developed to suit their specifications.
Our team has a passion for bathroom renovation. Hence, they know in-and-out of the existing trends which they further apply in the renovation projects. So, with us, you can be sure that your bathroom is being renovated with the latest styles, designs and elements.
Speak to Our Renovation Experts Today!
A beautiful home starts with a beautiful bathroom, and your beautiful bathroom is just a call away! As soon as you feel that you want to revamp your existing bathroom space, call our team at 1300 851 955 for all enquiries and to secure a quote. Our bathroom designs in Coburg are sure to provide your dream bathroom in no time at all.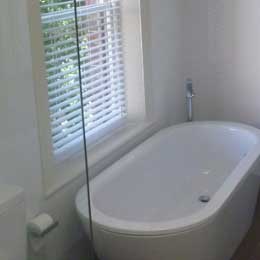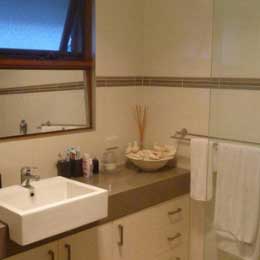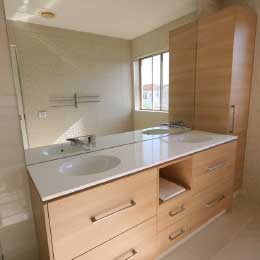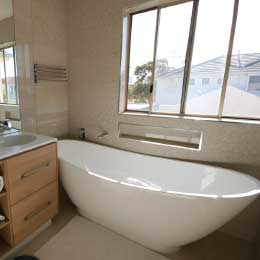 Kitchen Renovations Coburg
Kitchen Renovation Coburg - Plan Your Kitchen Design with Us
Are you looking for upgrading your kitchen? Are you bored of your old kitchen design in Coburg and want more room for your family? You are at the right place.
Concept Bathrooms & Construction is the one-stop-shop for all your kitchen renovating requirements. We will help you to remodel your kitchen with a smart and contemporary new look, allowing you to choose from a variety of available materials in several colours and textures. When you think of upgrading your kitchen, the most important question that arises is selecting the right kitchen supplies for the rebuilding. Quality products play a very important role and that's why, with us, you can be assured that you are going to receive the best products for your kitchen renovation in Coburg.
Build A Custom Kitchen With Us!
When you consult us, what we first do is try and understand your requirements and ideas. It helps us to understand your vision better. Our experts are properly trained to understand your needs and suggest you about the latest trends and devices. With more than 25 years of experience, we have good market knowledge and therefore cater to all budgets along with accepting all jobs, big or small.
When it comes to their kitchen renovation, Coburg residents don't simply want to settle for a carbon-copy design that's featured in every other property in their neighbourhood. They know the Concept Bathrooms team will provide a stunning and economic design that will be sure to impress for years to come.
Steps We Follow To Renovate Your Kitchen
Understand your ideas and know your personal preferences
Know about the appliances you use and your family size - it all matters in the design process
Suggest you a few designs and ideas
Know your final choice of kitchen design in Coburg
Provide you with a free quote or estimate catering all your requirements
If after this entire process, you feel that our team is a good fit for your kitchen renovation in Coburg and can take up your project, our renovators will get to work.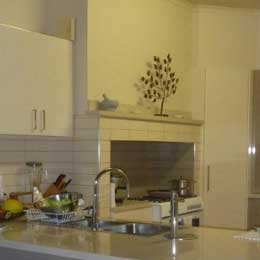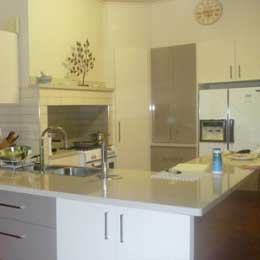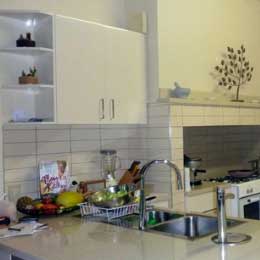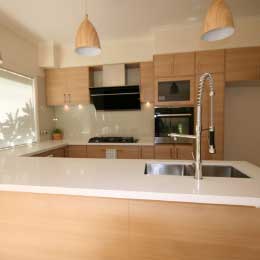 Why Choose Concept Bathrooms & Construction?
Remodelling your kitchen design in Coburg is a major undertaking. You need to be sure and confident enough that you are working with the right group of people and that they have a thorough understanding of what your requirements are. We, at Concept Bathrooms & Construction, value the trust you show in us and therefore, provide you services that are second to none like:
Customised Kitchens - We start the process of building your new kitchens in Coburg by first finding out what exactly you desire. If you are unsure of what you require, we have a number of design ideas and style options that you can choose from.
Competitive Prices - We take pride in our affordable prices and cost-effective design and follow-up services, and offer quality brands at the most reasonable rates.
Unlimited Choices of Colours and Textures - We, at Concept Bathrooms & Construction, offer you an unlimited choice of colours and textures to help you find the perfect new look for your kitchen.
Our proven services in kitchen renovations offer Coburg residents a straightforward and stress-free way to transform their old and dilapidated kitchen, creating a welcoming and inviting space that will make them feel totally at home.
Give Us A Call Today!
To get started with your kitchen renovation design, simply call us today on 1300 851 955
Areas we Serve - Throughout Melbourne
Our Bathroom & Kitchen Renovation services are available Melbourne wide. Here are just some of the areas we service