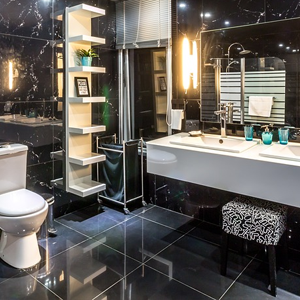 Quite frankly, it is extremely easy to renovate your bathroom into the spa of your dreams. And with a little inspiration and a few colour and theme suggestions, you will a uniquely awesome bathroom. In fact, there are a huge variety of colour schemes and tile designs that will easily fit your style and décor.
Soothing
A creamy white that sooths your soul after a long, hard day. This bathroom is sublime in mood that takes you away from the busy and flamboyant world. The soft light grey walls intersperse naturally with a classic double vanity in bone china tones. The room is complete with a marble counter that sparkles against the area's buttery trim.
A Fixed Receptacle Ceiling
Typically bathrooms are camped with corners that have limited roof space. These eaves can be nicely veiled by covering it with patterned designs such an aviary print that opens up the entire area. Add some matching accents like a corner vase with peacock feathers to finish off the look.
Windowed Shower Doors
When a bathroom seems awfully small, the best way to open up space is to install glass windowed shower doors. Not only is there an illusion of a bigger room but the glass reflects light making the space even larger. And to add a nice contrast, have you main focal point be a black tub with steel fixtures.
Floors Made of River Rock
River rocks are the perfect material for bathroom flooring. They complement most any style. However, textures and various gray colors are perfect for a Spanish style home. Select a shower door with a metal casement window with modern day fixtures for eye-catching appeal.
Authentic Zinc Tub
Antiques are always ideal for the bathroom. For stunning 19th century appeal, combine a lovely zinc tub with a patina full basin sink. Surround the striking tub with a trinity of windows or mirrors. Complete the room with a lovely 1850s vanity, towel rack and antique style throw rug.
Inlaid Tiled Bathmats
Inspired by the five star Parisian hotel of tiled floors and French fancies, this bathroom tops them all. Bring the elite right into your home with the use of tiled mosaics throughout the room. The bathroom is swathed in marble and has a 18th century chandelier overhead.
Kids' Bathroom
Kids will adore a fanciful bathroom with a themed animal such as a zebra. Plus it is classy enough where adult enjoys their whimsical pizazz. Try an uncommon combo of creative zebra wallpaper and graphic Escher painting tiles. We also provide a range of services including kitchen renovations and laundry renovations that gives you an idea about the theme you want.