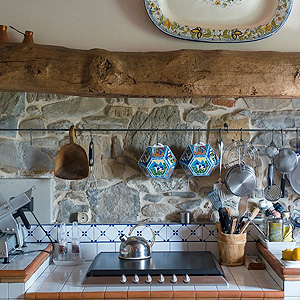 Tuscan style transports you to Italy with its warmth and earthiness. The secret to accomplishing this style in your bathroom is by utilising certain key, bathroom design ideas. These ideas involve the use of the right colours, materials, lighting and other elements in the proper combination. When a bathroom renovation includes a true Tuscan flavour, it is a relaxing, comforting room to bathe or groom in each day.
Tuscan Colours
Colours play a key role in setting the Tuscan tone in a bathroom. Shades of deep orange, yellow, Mediterranean blue and terracotta are just some examples of these colours. One word of caution here, though, blue is a cool colour and therefore, should be only for accent and not a main colour. Otherwise, you will make the room lose the warmth you wish to obtain with a Tuscan design. All of these provide an earthy feel to the bathroom, whether you select to utilise one or two, or a wide variety of them. Just be certain that all the colours blend together in a non-clashing manner.
The Materials to Use to Capture a Tuscan Flavour
Wood and stone elements together also help to create a Tuscan style with your bathroom design ideas. Granite, quartz and even marble floors, countertops and accents are possible in the shades of Tuscany that we mentioned in the colour section. Mix these elements with custom, timber cabinetry with its rich wood grain, and your bathroom will have the feel of the hills in Tuscany. Copper elements such as tubs, sinks or faucets are other ways to capture this style.
Lighting Is an Important Element with This Style
Lighting for this room style should be soft and subtle, not brash and glaring. With the light bulbs and fixtures available today, it is easy to obtain this type of lighting. You also will still have enough illumination for grooming without an excessive amount of brightness.
Additional Features That Enhance Your Efforts
You can install additional features, such as tile walls, decorative framing on the mirrors, statues and arched doorways will enhance your Tuscan-design efforts. Just think Italy and Tuscany when you select these items to ensure that they fit into the appropriate style.
When you desire a warm, earthy room to groom and bathe in each day, you should decorate in the Tuscan style by including the above bathroom design ideas in your bathroom. Consult with Concept Bathrooms & Construction for further information on this style since we are experts at designing and creating bathrooms of all styles. We offer other services including kitchen renovation, laundry renovation, tiles installation, and elderly & disabled bathroom renovation.