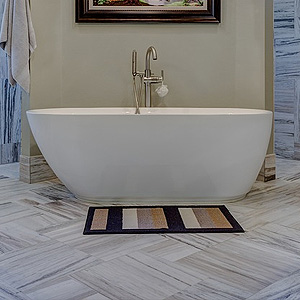 You have almost unlimited options for renovating your bathroom shower today, including tile. Tiles come in a wide assortment of colours, sizes, styles, textures and even materials. All types of bathroom shower ideas and accent designs can result by installing one or more together according to your preferences. We share some suggestions below with you about how to use tiles in your shower.

Decorate the Shower Walls to Create a Focal Point in Your Bathroom
Install tile from floor to ceiling on all the shower walls to turn the area into an attractive focal point in your bathroom. By doing this, you will transform the entire room into an oasis rather than just a functional room for grooming. Other configurations for the tiles are possible in case you wish to have the upper area of the shower walls to be painted and the lower area to contain tiles for an example of what we mean by this.
Include Accent Designs in the Shower
While you may select to install the same type and colour of tiles on the walls of the shower, you also may desire to include accent designs with complementary tiles of a different style or colour across the top, middle or bottom of the walls. In addition, you can scatter design patterns periodically throughout the walls.
Tile the Floor with Slip-Resistant Tiles
You can select to tile the floor of the shower along with the walls. The important thing here is to select a tile that is rated to be as slip-resistant as possible. While slip-proof tiles do not exist, each type of tile carries a rating on how high the risk of slipping on the tile is when it is dry or wet. For this reason, you may need to install a different tile on the floor than you do on the wall unless the floor tile suits your purposes for both areas. This is not a problem, though, as different tiles on the wall from the floor will add a special dimension to the area.
Types of Tiles to Consider
• Mosaic, subway and glass tiles are ideal for the shower walls
• Simulated stone, simulated wood or mosaic tiles are the preference for floors, even though, they also work for the walls
Along with these types of tile, you will see size variations in each and other categories from which to select depending upon the manufacturer.
For further information about bathroom tiles installation or shower ideas and accent designs, consult with Concept Bathrooms & Construction. We will provide you with quality results each time that we perform a project for you. We also provide tiles installation services for kitchen renovation and laundry renovation.