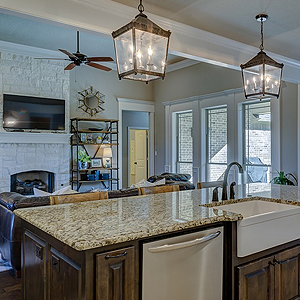 When making an investment in new countertops for your kitchen, you should think about the materials that will help these elements endure over the years in a quality manner with daily use. For this reason, you need to seriously consider the benefits of natural stone countertops.
Various Types of Stone Are Available
You can select from a wide assortment of stones. Each one has its own unique characteristics, attractiveness, care instructions, and durability levels. Consider the list below to start your search:
Marble – This stone is famous for its intricate veining that varies between slabs, expensive look and feel, and high durability with the right care. Marble is the pricier option in the stone countertops.
Granite – With this stone, you receive a durable, heat, and scratch-resistant countertop.
Quartz – Quartz is less expensive than marble, but offers a high level of heat and is scratch resistant to produce a durable countertop.
Soapstone – While soapstone is attractive and durable up to a point, you must care for it carefully for it to keep its resiliency.
All Stone Comes in Various Shades
Since all of the above types of stone formation in the ground in various parts of the world, the colors vary between each stone slab even within one given type, but typically, the colors include everything from whitish shades to blackish ones with numerous shades in between.

Natural Stone Countertops Will Outlast Those of Other Materials
The stone material lasts longer than man-made or wood materials do in a kitchen. Synthetic countertops can fade, scratch and mar easily, and show other signs of wear in the fraction of the time that stone ones do over the years. Timber ones can be resilient, but the stone ones are at the top of the list where this is concerned with countertops.
Stone Countertops Can Increase the Value of Your House
Since stone countertops are both durable and attractive, and the fact that the condition of the kitchen has a major influence on the overall price that you can receive for your house if you sell your property, you can increase the value of your home by replacing your old laminate countertops with stone ones. Also, you will realize a high return on this investment.
To learn about the additional benefits of natural stone countertops for your kitchen, consult with our team here at Concept Bathrooms & Construction. We will assist you in choosing the right type of natural stone for the way in which you use your kitchen to ensure that it suits your needs in the best possible manner. Our company promises satisfaction with our materials, products, and workmanship. We are experts in kitchen renovations, tile installation. Contact us for a quick quote.