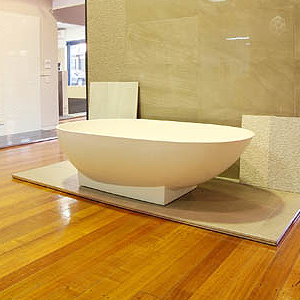 You may adore the luxurious bathroom designs you read about online or in magazines while being afraid to try them in your own house out of the fear of them costing too much money. The good news is the fact that you can replicate these designs in a way that is budget-friendly and costs less than you may think. We provide you with a number of tips in the following facts to help you on your way towards this goal.
1. Install a spacious shower in a glass enclosure. A shower such as this can include the latest in shower heads, a chair for those who need to sit during their shower, built-in soap dishes and other amenities depending upon the space that is available for this addition to your bathroom. Along with the glass enclosure, you may add tiling on your walls that are not of glass.
2. A freestanding bathtub is an ideal focal point for your version of the luxurious bathroom designs you so admire in the information you see online and in various publications. Freestanding tubs come in a variety of styles that range for sloping ends ideal of soaking to straighter sides and ends for a space-saving feature.
3. Custom cabinetry with single or double sink configuration depending on the available space is another touch often seen in luxurious designs for bathrooms. The rich wood grain adds an earthy ambiance while the smoothness of the ceramic sinks add the elegance you so desire in this type of bathroom. You can select the tone of wood finish that fits in with your colour scheme in the ideal manner. Whether you select a light ash, medium shade of brown, rich cherry or another shade, the stain will allow the grain to show through for a natural touch. Ceramic sinks come in recessed, semi-recessed and non-recessed styles and add a classiness no matter which style you prefer for your bathroom.
4. While you need adequate lighting for grooming, it does not need to be harsh and unattractive. Turn to the latest in technology such as LEDs that fit into fixtures of all price ranges. For a modest investment, you can obtain soft illumination that still allows you to apply makeup or other grooming tasks in the proper manner. In addition, LED bulbs keep being economical to use since they last longer than certain other bulbs do that are on the market today.
Contact Concept Bathrooms & Construction for bathroom renovation and the team will help you follow these tips and other ones to achieve your desired version of the luxurious bathroom designs that delight your senses. We offer services in design, material and fixture selection, construction, laundry renovation, kitchen renovation, and tiles installation in a quality manner.