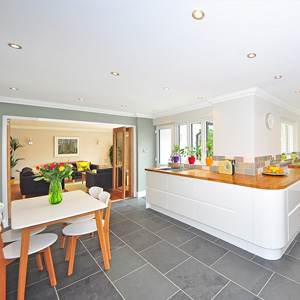 The kitchen can be one of the most inspirational rooms in your house, and, since family members spend a considerable amount of time here, it should be as aesthetically pleasing as it is functional. So, when it comes to renovating kitchen flooring with the latest tile designs, choosing a material that will add beauty and aesthetics to your overall design just makes sense.
1. Timber Flooring
It does not get any classier than this. Traditionally, kitchen floors have been made of timber, and of late, this interior style has come back. A lot of home owners consider hardwood timber as an ideal option for its durability, aesthetics, and long-lasting nature. Often, people choose a wooden theme for their kitchens, or they simply choose a distinct wooden floor to go with an existing theme. The only real downside is that timber floors can be more expensive than other flooring, but in the long-run, it is an investment that increases a home's value.
2. Laminate Wood Flooring
Over the years, laminate has proven to be a more functional and Eco-friendly flooring option. The top layer of this material is made from composite wood pressed together, this is done at high temperatures to achieve the look of timber. Laminate is roughly half the price of hardwood flooring, which makes it an affordable option.

3. Concrete Flooring
If there is any material that can outlast timber flooring, its concrete. Concrete is a more modern approach to flooring and it is impressive how it can be decorated in any colour, to match nearly countless interior design themes. Concrete comes with many benefits, it is moisture and impact resistant. So, basically, you won't have to worry about it being damaged by dropping things on it.
4. Tile Flooring
Tiles are another great choice for kitchen flooring, there are many types and designs, and these can withstand water, spills, and heavy foot traffic. Tile installed by experts will not absorb any bacteria or odours, and it can go with any interior design style or decor.
There are many flooring options available when renovating your kitchen. If you aren't sure which type of material to use that will add beauty and aesthetics to your overall design theme, then visit the showroom at Concept Bathroom & Construction. You will be amazed to discover the decorative possibilities that are available for kitchen renovation. We also provide a range of services including laundry renovation and bathroom renovation.