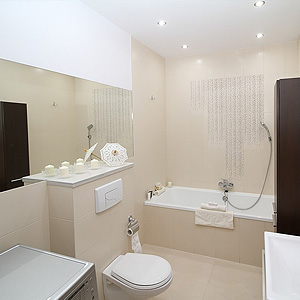 Bathrooms are major rooms of use and necessity in any household. Especially if you favour a minimalist design for your bathroom, storage space that is tucked away beneath the vanity or behind a mirrored section lining the wall above is essential for your overall room's structure and style. Concept bath designs are popular now, and many young people in particular favour minimalist styles in their homes or apartments. One reason for this is that the basic principles of minimalist thought, visual presentation and practical application call for lack of clutter and complexity. Although this mode of thinking and fashion statement may seem easy to achieve, in reality, it can be more difficult than most people think.
Main Features of a Simple Minimalist Bathroom Design
Some major aspects and features of a basic modern minimalist bathroom design today include the following:
• White or Neutral Fixtures, Walls and Floor. – Most current minimalist bath decor includes basic white or neutral porcelain fixtures. The walls and flooring are also white or neutral shades of tile, with the same tiling continuing into the shower. No unnecessary furniture items are added to prevent the accumulation of clutter in the room.
• One Wood Grain or Coloured Item. – One item with a wood grain or coloured surface may be present, usually of a dark, sedate hue or finish. The lack of colour is meant to reinforce the simplicity and overall calm, quiet ambience of the room's total interior. The mirror above the vanity may be rectangular or rounded, depending on the lines of the sink and vanity beneath. In general, a true minimalist bath design will have only one sink, as two might indicate a weakness for indulgence or excess in the overall decor concept.
• Simple, Recessed Lighting. – Lighting is recessed in the ceiling or walls minus any ornate decoration. The light is directed in a practical way toward the room's mirror above the vanity and downward in the shower to provide safe lighting while the shower is being used. Some designs use only recessed spot-type lighting without any exterior shades or clear covers to soften the directed light beams.
• Plain Walk-in Shower Design with Clear Glass Sliding Door. – The clear glass door of the shower prevents any obstruction of the room's open, uncluttered look and atmosphere, creating the sense that the shower is simply an extension or corner of the room. Your reaction may be similar to the feeling you experience in a typical European bathroom with wall-to-wall tiling and no separate shower.
When you engage the professional advice and services of Concept Bathrooms & Construction in Preston, Victoria, you will receive excellent comprehensive guidance for designing or remodelling your bathroom to give it a true minimalist look and practical, uncluttered functionality. This expert bath design and construction team will provide you with the top-quality knowledge and workmanship to ensure the pure, authentic style of a genuine minimalist bath decor. We also provide a range of services including kitchen renovations and laundry renovations.