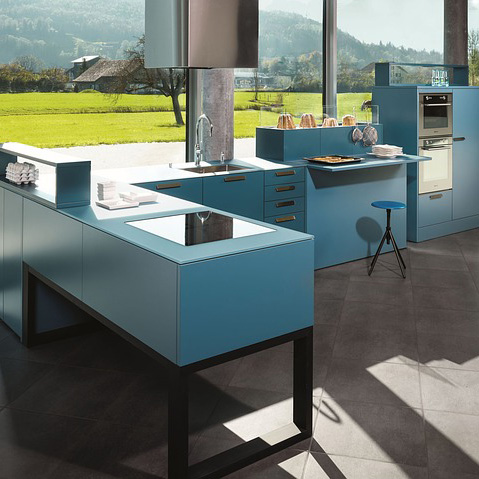 If you own a house with limited space or enjoy entertaining on a regular basis, an open-concept kitchen is ideal since it provides the amenities of the kitchen without closing the room off from the rest of the house. A typical house layout with this type of kitchen will include a dining room or area right off the kitchen without a wall in between the two rooms. At times, the living room, dining room and kitchen are all one large room, in actuality, separated only by the furnishings for each area. We explore some design ideas of this type of kitchen in the following facts.
Ideal Layouts for Open-Concept Kitchens
You can select from the following layouts for an open kitchen since all can provide an airy feeling when set up correctly:

• One-Wall Layout – All elements of this style of kitchen are on a single wall, including the refrigerator, stove, sink, cabinets and benchtops. This layout requires the least amount of floor space out of the other layouts here. You can take cabinets from the floor all the way to the ceiling if necessary with this layout to provide you with sufficient storage.
• L-Shaped Layout – With this style of layout, the elements of the kitchen are on two walls with benchtops of both connecting where the two walls meet.
• U-Shaped Layout – In the U-shaped kitchens, the elements of the kitchen are spread out over three walls in such a way as to limit the space you need to traverse to prepare food.

• G-Shaped Layout – This shape of the kitchen is similar to the U-shaped one but with the addition of a benchtop partway across the open end. If you select this layout for your open kitchen, you need to be certain to leave off cabinets over the benchtop at the open end or at the very least, install glass shelving to preserve the open nature of this style of kitchen.
An Island Is a Useful Feature to Add to an Open Kitchen
Certain open-concept kitchen designs contain an island when space allows for one that is either an additional workspace or a bar-style seating area. You can install an island without comprising the airy look and layout of this style of kitchen.
Flooring Can Create Symmetry with the Kitchen and Adjoining Rooms
The way to ensure symmetry between the kitchen and the adjoining room or rooms is to install the same type of flooring throughout the rooms. If you decide not to follow this approach, though, be certain that the flooring colors compliment each other and do not clash together.
For further details about open-concept kitchen design ideas, rely on Concept Bathrooms & Construction. We offer a full line of services to ensure that your kitchen plans come to fruition in an ideal, quality, and durable way. We provide a range of services including bathroom renovations and laundry renovations.