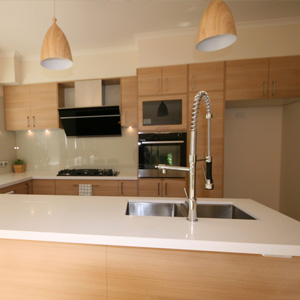 Since the kitchen is one of the busiest rooms in the house, it typically requires renovation at least once during the life of the house. Homeowners remodel their kitchens when they lose their attractiveness or are not as functional as they need them to be for food preparation. If you feel that you need to improve this room in your house in one manner or another, it is time to plan how to remodel it to better suit you. Read on to learn our practical tips for kitchen renovation.
Consider How You Use the Kitchen
Think about how you use the kitchen as the first step in your renovation plan. You may require an area for your family to congregate to eat snacks and meals or you may entertain to such an extent that workspace is imperative in your kitchen just for two examples of what we mean by kitchen usage. A work island is ideal for extra workspace.
Kitchen Storage Is Another Consideration
You should decide on whether the amount of kitchen storage that you have at present is sufficient or if you may need to expand on it with the remodel. A renovation is the ideal time to add extra storage space to the kitchen, whether it is with cabinets or a pantry. Adequate storage options in the kitchen prevent counter clutter and result in additional workspace.
Ensure That the New Kitchen is Simple to Maintain
Do not overlook the necessity for your kitchen to be simple to clean and maintain. This is especially important when you are an avid cook or baker. Below are suggestions for materials for countertops that are low maintenance:
• Quartz
• Stainless Steel
• Polished Granite
• Laminates
• Resins
• Wood
Invest in Top-Quality Materials
Your remodeling budget should include enough funds to invest in top-quality materials. When you skimp on these materials, your kitchen will not hold up long enough for you to receive a valid return on your investment. Instead, your kitchen will require another remodel in just a few short years.
Hire a Quality Company to Perform Your Renovation
Only trust a quality company to perform your kitchen renovation for you. A company such as this will offer services in design, construction and installation to ensure that your kitchen remodel comes to fruition in the ideal manner. When you turn to Concept Bathrooms & Construction for your kitchen-remodeling project, we bring over 25 years of experience to it to ensure your satisfaction. We walk you through every step of your renovation before you decide whether or not to hire us to ensure that you understand what each step involves for your kitchen. In addition, our company guarantees the quality of our materials and services. We provide a range of services including bathroom renovation, laundry renovation, and tiles installation.