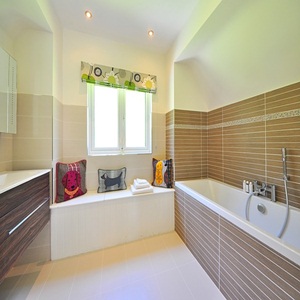 As part of updating or renovating your bathroom, you need to select your preference for the modern bathroom colour schemes that are popular today. With the right colours, you will set the overall mood of the room to suit your personal usage. You can select to use a single colour for the walls, countertops and floors for a monochromatic effect or you can combine different shades that complement each other to enhance this room.
Examples of the Modern Colour Schemes for Bathrooms
1. Blue Shades to Simulate the Feeling of the Sea
Shades of blue provide the same calming feeling one may receive when admiring a sea or ocean. These shades for a modern bathroom range from aqua to deep purplish blue. Consider one of these shades if you use your bathroom to melt away your problems while you soak in the tub.
2. Green Tones Add a Natural Ambiance
Tones of green bring a natural ambience to the bathroom similar to the lush green lawn offers your yard. Green is as calming as blue is to remove the stress of the day. Shades range from pale to grass green.
3. Gray Schemes for a Masculine Appearance
When in need of a colour scheme with a masculine twist, consider tones of grey. You even can mix these tones with brown tones, such as those in a simulated timber floor.
4. Tan for a Neutral Scheme
If you seek a neutral colour scheme, consider shades of tan. All types of bathroom elements from countertops to paint shades come in this colour.
5. Black and White for a Bold Statement
Using black and white together broadcast a bold statement since these shades are exact opposites of each other. When you add towels in the same colours to the room, the modern effect will astound you.
6. Red Will Energise You in the Morning
Red is the perfect colour to provide you with mental stimulation first thing in the morning. Medium to deep shades of this colour increase your mental activity and heart rate.
7. White Provides a Simple Elegance
Going with an all-white scheme gives your bathroom a simple elegance. Achieve this not only with paint and fixture colours but also you should add white floor and countertop options, such as marble.
We stock all the tile brands and provide tile installation services across Victoria. Add the above colour schemes with natural wood grains in the custom cabinetry for an earthy feel to your bathroom on top of the other effects that you can achieve with the colours. Consult with Concept Bathrooms & Construction for further details on these and other modern bathroom colour schemes and all of our services. We provide other services including a kitchen renovation and laundry renovation.