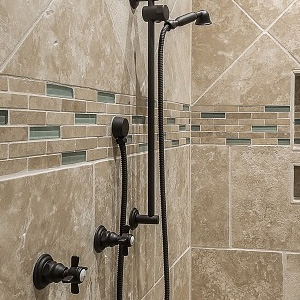 When in search for the latest materials to enhance your bathroom with, you need to consider travertine tiles and all that they have to offer this room. With these bathroom tiles, you will create the next generation of custom bathroom design that will last you far into the future. Travertine tiling makes for a durable floor inside and outside the shower, but also is attractive and wears well on bathroom walls.
A Brief Description of Travertine
Travertine is a type of limestone that forms in hot mineral springs. It forms in a variety of colours ranging from white to rust. Experts can hone and finish this stone to provide you with even a high-gloss finish, but it does require sealing since it porous in nature.

You Can Select From a Wide Assortment of Colours and Patterns
Today, there is a wide variety of colours and patterns available in travertine tiling. Colours range from a shell white to medium rust shades. While you can select to install all one colour in your bathroom, you also may decide to turn to multiple colours to create an earthy ambience in the bathroom. Mosaic patterns also are available on the market.
Travertine's Durability Makes It Ideal for Bathroom Floors
As with other natural stone, travertine is a durable option for bathroom floors when it has the right texture. You do not a completely smooth finish for flooring in the bathroom with these tiles since it can be slippery when wet. A textured surface will provide a slip-resistant flooring that is favourable for both showers and bathrooms with the right sealant. Limestone is long wearing under normal-use conditions.
Install Travertine Tiles for Splashbacks or Wall Decor

Do not limit your use of these tiles to just the bathroom floor since they are ideal to create a spectacular wall decoration or to provide attractive protection in the form of a tub or sink splashback or a shower surround.
Travertine Tiles Are Easy to Maintain
Tiles of travertine are easy to maintain by following the instructions of the manufacturer, which will include how often resealing may be necessary. Sweep the floor with a soft broom to remove all debris and mop it with a gentle detergent at least once a week for routine maintenance.
For further facts about the next generation bathroom design using travertine tiles, contact Concept Bathrooms & Construction. We will deliver a bathroom that is highly functional and attractive. On top of this, all of our workmanship and materials come with a guarantee. We also provide a range of services including kitchen renovations and laundry renovations.