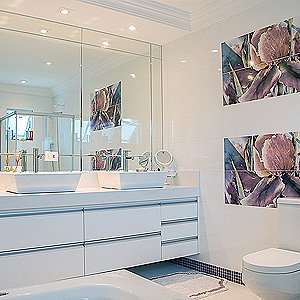 Renovating your bathroom and kitchen can bring new life to your living space. It can add convenience, comfort, lifestyle and panache to your home. Regrettably, a renovation can take a lot of time, labor and money. But it can also be a rewarding experience that is stress-free. And with a few helpful tips, you can rest assured that your renovation runs smoothly.
Financial Plan
Many experts agree that a financial plan is needed before you start any type of renovation. Having a financial plan can also help with deciding on what you want to be renovated and its importance. The plan needs to have an estimated or exact cost for everything such as labour, materials, appliances, updating fixtures and other expenses. Also, do not be afraid to readjust the budget if prices are higher than expected. Just make a list of your priorities to help you decide what is most important.
Have a Definite Plan
A definite plan on exactly what you want is highly important. Look into renovation storage providers in your area. This will help you stay on track and not go off-budget. A plan entails many variables like pricing items, selecting the best products, measuring space plus the time allotted to complete the project. In addition, your budget should include additional money for any hidden costs that you may have overlooked. The last thing you want is to run out of funds before the renovation is completed.
A Step at a Time
Renovating your bathroom and kitchen can be a very exciting experience. Some homeowners are tempted to tear everything out and start over such as the flooring and countertops. In addition, the numerous options for designing can be inspiring. It is easy to get carried away and start renovating both rooms at the same time. However, if you are residing in the same house that is being renovated, it is best to start and finish one project at a time. For instance, you may decide to install all new appliances and fixtures like the shower and sink faucets. Instead, renovate one bathroom at a time. That way one of the facilities is functional while to other is being upgraded. This is especially convenient if the fixtures you ordered are delivered late.
Hiring a Professional

Although it may be tempting to do the work yourself, it the long run it is more cost-effective to hire an expert. And when it comes to renovating your kitchen you want to hire the very best. Someone experienced will have the know-how and expertise to get the job done right. And aside from saving you time, a professional will make sure that your renovation is stress-free and up to standards.