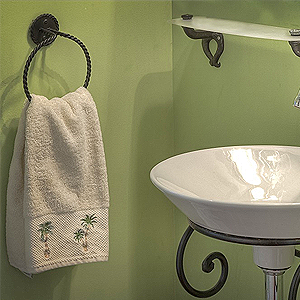 Today, homeowners across Australia are trying to build homes that impact the environment as little as possible. For example, when designing a bathroom for their house either as a construction or renovation project, they are discovering ways of greening their bathrooms to achieve an eco-friendly ambiance in this room. You may be in the midst of such a project at present and might need a bit of guidance on how to achieve this ambiance effectively. Luckily, we offer you four ways to obtain a green bathroom in the facts that follow.
1. Water-Conserving Toilets and Tapware
Top on the list for building a bathroom is the installation of toilets and tapware that function in a water-conserving manner. Low-flow toilets require one-third if not less of the water of high-flow toilets do to flush. They not only preserve a valuable resource, but also they allow your water bill to be less, which saves you money. For the shower, select a low-flow showerhead and at your sinks, install motion-sensing mixers or other tapware to conserve water.

2. Select Power-Saving Light Options
Greenlight options include LED and CFL bulbs, both of which use less electricity than the old-time incandescent bulbs do and therefore, are the better choice for an eco-friendly bathroom design. In addition to using less power to provide illumination, both of these styles of bulbs last much longer since they do not burn out as quickly as incandescent ones do with their filaments. All of this means that you will save money on your power bill and on light bulbs over time due to the fact that you will not be purchasing them as often.
3. Use Sustainable and Recycled Materials for Certain Bathroom Features

Whenever possible, ask for sustainable or recycled materials for bathroom features, such as flooring, wall tiles and cabinetry. Timber from sustainable sources throughout Australia is possible today for the construction of your custom cabinets as well as other elements in this room. Flooring options can include recycled materials ranging from wood to clay tiles, and the wall tiles can be of recycled glass or glass tiles. In addition, you can recycle materials from your outdated bathroom to green up your remodelled one.

4. Low or No VOCs
Another way to ensure that your bathroom is as green as possible is to use finishes and other materials that give off low or no volatile organic compounds or VOCs. An example of these elements is formaldehyde, which can negatively affect your health when you inhale it.
Concept Bathrooms & Construction will assist you with further facts on greening your bathroom for an eco-friendly ambiance upon request. We are experts in domestic construction and renovations for all areas of your home. Our company promises to deliver quality results and backs all our work with a guarantee of satisfaction. For more information about bathroom renovation contact us. We also provide other services including a kitchen renovation and laundry renovation. Also, check our eco-friendly kitchen ideas for your kitchen.